Yes I'm the Mod at this Wiki
Ok I'm the Bureaucrat (I moderate Beetlejuice Wiki). I am a nice guy, I do edit a lot, including other pages I didn't start. So don't take it to heart if ten minutes after you post a new page, it has my edit. I mostly do formatting stuff to keep the pages looking like each other. Most of the time, content will remain, I am not going to mess with your posts too much in that department.
Introduction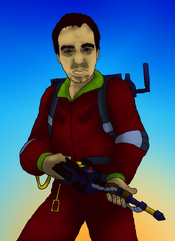 I have been editing at Wikia Fandom since September 2008. I am currently editing at Ghostbusters Wiki (my home-base wiki, check out the new film coming out this summer), and ThunderCats Wiki (a new kid reboot show of the classic cartoon series of the 80's, which is now airing on Cartoon Network), and Darius Wiki (a classic horizontally-scrolling shooter video game series, which is all about Aquatic life). However, I work on many wikis depending on the nature of them. I enjoy helping out new wiki's too, so if you are a new admin or a user and is having issues with editing a wiki, contact me at my Talk page.
BIO
Hi, my name is Matthew Jordan. I grew up in Champaign/Urbana, IL, area in the USA. I am one of the somewhat older users on Fandom at the age of 40 years old.