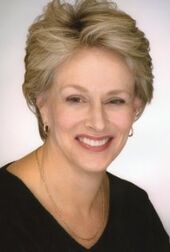 Susan Kellermann is an American actress.
Career
Broadway and theater-house actress Susan Kellermann made her entrance before-the-camera in episodes of Starsky and Hutch (1975-79) and Laverne & Shirley (1976-83). She went on to play many characters in film including, Grace, the gold-lame-jumpsuit wearing dinner guest in the famous Beetlejuice (1988) 'Day-O' scene, the pretentious and calculating Patty in Elvira: Mistress of the Dark (1988), and Gunther, the deadpan German concierge in the Queen Latifah film Last Holiday (2006).
Beetlejuice connections
Susan Kellermann appeared alongside fellow Beetlejuice (1988) cast member Jeffrey Jones in The Devil's Advocate (1997).