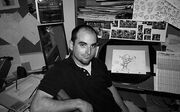 Shane Zalvin (aka Shane Zelvin) is one of the Layout Artists (season 1 only) of Beetlejuice: The Animated Series. He's also known for his other works, such as Space Jam, 101 Dalmatians (1996 live-action film), Are We Done Yet? (2007 film), Four Rooms, Spirit: Stallion of the Cimarron, Pocahontas II: Journey to a New World, From the Earth to the Moon (1998 TV Mini-Series) and others.
Plot
He was Born and raised in Toronto, Canada, and it was there that he began his own professional career while in College, designing toys and toy packaging for a small Canadian toy company. A year later, he broke into the animation industry as a layout artist and an animator at Nelvana, Ltd. and shortly after, he emigrated to the Los Angeles area to work as a Feature animator, and there he stayed.
In 1992, Zalvin started his own Freelance career which allowed him the freedom to pursue many of his other interests in the visual medium: Storyboard, Design, Illustration, Sculpting and Layout. Throughout history, he's had the pleasure of working with some of the top people and companies in Feature film, Television and Consumer Products. He enjoyed the variety of his work with a passion, and always look forward to the next new challenge.
External Links