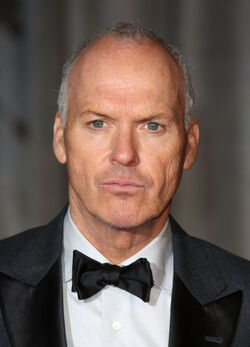 Michael Keaton potrayed Betelgeuse in Beetlejuice.
Significant roles
Lanny Wolf in All's Fair (1976-1977)
Mike O'Rourke in Working Stiffs (1979)
Murphy in Report to Murphy (1982)
Bill Blazejowski in Night Shift (1982)
Jack in Mr. Mom (1983)
Johnny Kelly AKA Johnny Dangerously in Johnny Dangerously (1984)
Hunt Stevenson in Gung Ho (1986)
Betelgeuse in Beetlejuice (1988)
Billy Caufield in The Dream Team (1989)
Bruce Wayne/Batman in Batman (1989)
Carter Hayes in Pacific Heights (1990)
Bruce Wayne/Batman in Batman Returns (1992)
Dogberry in Mich Ado About Nothing (1993)
Bob Jones in My Life (1993)
Henry Hackett in The Paper (1994)
Doug Kinney in Multiplicity (1996)
Ray Nicolette in Jackie Brown (1997)
Peter McCabe in Desperate Measures (1998)
Ray Nicolette in Out of Sight (1998)
Jack Frost in Jack Frost (1998)
President Mackenzie in First Daughter (2004)
Nicky Rogan in Game 6 (2005)
Jonathan Rivers in White Noise (2005)
Ray Peyton Sr. in Herbie: Fully Reloaded (2005)
Chick Hicks in Cars (2006)
Ted Riker in The Last Time (2006)
James Angleton in The Company (2007)
Frank Logan in The Merry Gentleman (2008)
Ken in Toy Story 3 (2010)
Captain Gene Mauch in The Other Guys (2010)
Noah in Noah's Ark: The New Beginning (2011)
Ben Frankenstein in Frankenweenie (2012)
Adrian Toomes/Vulture in Spider-man: Homecoming (2017)
Gallery
External links
Community content is available under
CC-BY-SA
unless otherwise noted.