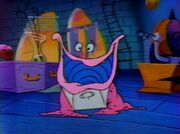 Little Gooey is one of these Neither-Babies (which means Babies in Neitherworld) which Beetlejuice babysits in this pilot episode of "Beetlejuice: The Animated Series", called "Critter Sitters". Also he has the gooey father.
One day, Little Gooey, Great Huge Baby and Porcupine Baby have gone mischief at Neither-Mall (which means "Shocking Mall" at Neitherworld),
Trivia
Little Gooey didn't appeared in BJ's live-action film.