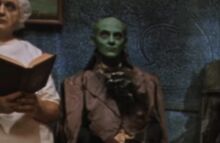 Green Man is the person near Char Man and the Open Heart Surgery Patient. His cause of death is unknown.
Personality
Gallery
'BEETLEJUICE'© Copyright 1988-2020 Warner Bros. Entertainment, Inc.
All images/screencaps are used under Fair Use.
All Text is covered under Creative Commons Attribution-Share Alike License 3.0 (Unported) (CC-BY-SA).
Please read more about copyrights and issues at Wikia Community Central.
For general rules for editing articles/adding images, go to Community Portal.
Community content is available under
CC-BY-SA
unless otherwise noted.